The last months have I made some small trips around Mjölby.
I was to a local car meet in Ekliden about 15 km from home.
The trip to the meet went fine in the summer evening.When returning home the car suddenly stopped after 5km.The location of the problem went on having good help of passing cars with there good advices.There was only to realize that it had stoped.It was only to tow the car home after a helping hand of an A-Ford.The evening went dark and it had begun to rain.All went fine home in to the garage.
After couple a days the work begun finding the problem.When dismantling the distributor and lift it out I found that the drive wheel to the oil pump has failed and the pin was broken.Making a new one and put distributor and oil pump back .There was only to time the engine with my home made feeler in the spark plug hole.There where some trying and the hours passed away.Finally I was pleased.
Later in October I took a trip about 30 km and it all went smooth and fine.
The transmission is undertaken some repairing to find out why the third gear is sometimes failing
.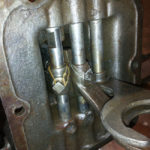 The step plates is not ready.
I wish you all Merry Christmas and a Happy New Year.